A portion of this post was originally put on the now defunct "What Was I Thinking?" blog on July 18, 2008. Reposted here for your enjoyment.
I'm going to wrap up this week of blogging with a re-cap of yesterday's "activities" and highlights of the week to come... everybody strapped in for this whirl-wind blog?
Yesterday, I went and viewed the special exhibit at the IMA, "On the Road," with a special presentation by exhibit curator (from Indiana University) David Canary--his lecture was quite interesting and humerous, detailing his travels with "The Scroll." There was a short film that was put together by some University of Iowa students about Jack Kerouac's scroll that was then shown. One interview during the film was from a gentleman who said the motto of the beatnik generation was, "Be Here Now," and with the rise of the iPod and cell phone, our current motto is more like, "Be Somewhere Else Now." My, how times have changed. After the lecture and film, I went up to the third floor (contemporary art) and viewed the exhibit.
This photo shows a sample of the Robert Frank photographs that surround the Kerouac scroll in the gallery. Back story: Robert Frank (fellow beatnik and friend of Jack Kerouac) took a two-year, cross-country trip (New York, down the eastern sea board, through the southwest, up California, across the north, down through Chicago, and ending in Indianapolis) that was funded by the Guggenheim and he chronicled his trip with photographs. Frank wasn't making a "scrapbook" of his travels, rather a living history of what the country looked like at the time. His photos are presented in the book
Robert Frank: The Americans
.
This photo shows some people viewing the Jack Kerouac scroll (the 84' that is visible at the IMA installation). It was kind of amazing standing that close to the original scroll, viewing the editing notes that Kerouac made in his own hand that are still visible, wondering what was going through his head when he was re-reading the manuscript. The story goes (as told by David Canary) that Kerouac used the scroll (not really Teletype) because he typed roughly 100 words per minute, and wanted to be able to get his thoughts out in a stream of consciousness, rather than having to stop and feed individual sheets of paper into the typewriter. He eventually re-typed the manuscript into a format the was suitable for presenting to publishers, but this was the first draft of the now ground-breaking book.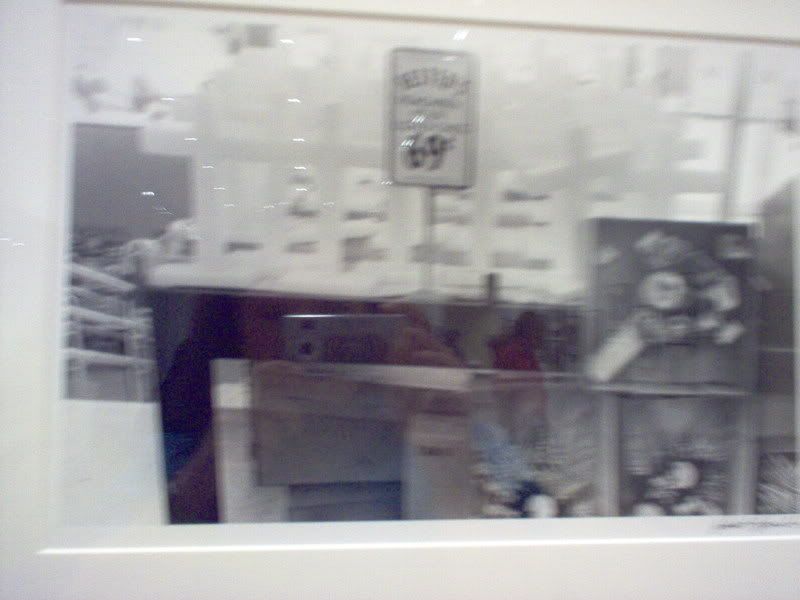 This is another of Frank's photographs that struck me as interesting. It's hard to see in the photo, but this is a picture of a display of cemetary wreaths in a department store with a sign that says, "Remember Your Loved Ones, 69 cents." I was kind of thinking about what value we place on our families now... hmm.
I saw some other really interesting installations in the Contemporary Art Gallery that I didn't take photos of. Here are links to the IMA site with photos of their art:
Do-Ho Suh, Floor (Untitled)
;
Kara Walker, They Waz Nice White Folks While They Lasted (Sez One Gal to Another)
;
Scott Stack,
Apartment
(I couldn't find a link to this on IMA, this is from another gallery). If you're interested in contemporary art (because so
many
people are), I'd suggest checking out the PBS series
Art:21
(a series reviewing art in the 21st Century).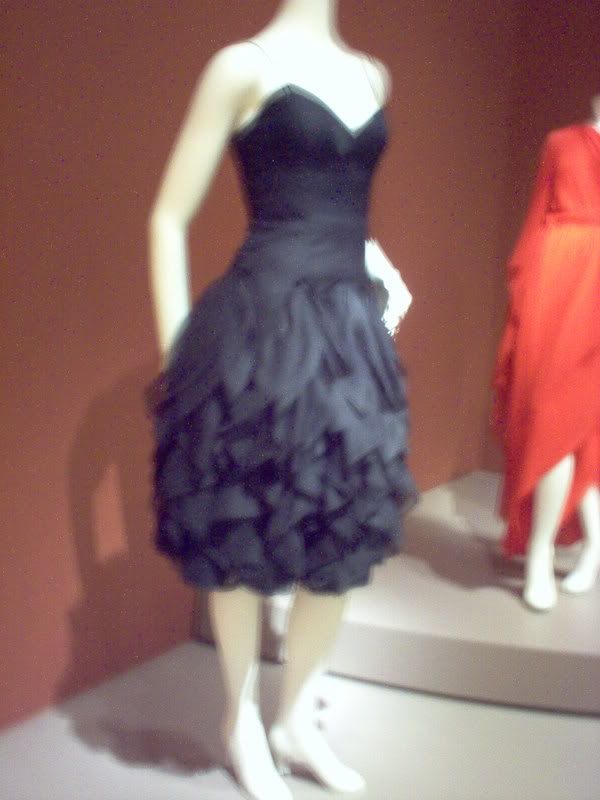 This is a photograph of a dress in the Simply Halston exhibit (2nd Floor, Textiles Gallery). The Simply Halston isn't quite as interesting as the Dior exhibit that was there last year, but Dior was hard to match. Interesting, none the less.
Anyway... after the exhibit at IMA...